Internet Application Development
Customer relationships are increasingly a blend of customer service and self-service. The user experience should move freely between fully automatic and fully human interaction.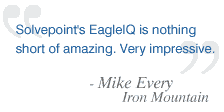 Doing this well is important since the responsiveness of your organization is a key indicator of your worth to the customer. Solvepoint is not a one-product shop. We have expertise in a range of classic and modern technologies, including Java, .NET, ASP and other Microsoft technologies, general business languages, Oracle, Progress, Open Source and many other technologies. We typically work with technologies for several years before we offer them to our clients. Our specialists have deep domain expertise and know-how to leverage these diverse technologies to achieve your business goals. Our research and development investment is significant and has produced astoundingly successful technologies like EagleIQ.
Click to learn more.